Planning a tour of New Zealand? Know its true size.
We've lived in the Far North of New Zealand now for just over 12 years, and we seem to be having a particularly intense 'La Niña' summer.  For those in the Northern hemisphere unfamiliar with Pacific climates, a 'La Niña' brings warmer than normal ocean temperatures; great for scuba diving and swiming. But the temperatures also mean increased humidity and moisture in the air bringing higher than normal rainfall and increased likelihood of the sort of weather that saw Auckland flooding in early February.
We found ourselves regularly checking road conditions to reassure our guests the best option if things were looking uncertain. It was a reminder that many self designed itineraries don't take into account true distances and road conditions in New Zealand, even in summer.  So if you are in the planning stage of your visit to New Zealand, then this post is for you.
Discover the 'true size' of New Zealand
Centuries ago, old world geographers struggled with accurately drawing maps of the world.  Their problem was simple: how do you draw something shaped like an orange on a flat piece of paper? Maps drawn in times of old, laid flat local (northern hemisphere) regions making them bigger, and distorting areas that were further away.  That has persisted in many standard maps today, so many of the countries in the southern hemisphere appear much smaller than they really are.  A favourite web site of mine – The True Size Of – allows you to find a country on a map, then move it over another country to remove the distortions and compare its 'true size'. The results are fascinating.  Here's a few.
Why not drive from New York to Florida in a couple of days?
Crazy hey?  You'd probably fly. Get this: if you overlay New Zealand with the tip in New York, the bottom of the South Island makes it all the way to Florida. Maybe not the Florida Keys.  Would you plan on driving and exploring all the states in between in less than 2 weeks?  Of course not, but that's what we quite often see here in New Zealand.  The NZ regions from the top, start with sub tropical climes – native nikau palm trees, warm rain forests with soaring kauri trees protecting the silver ferns and kiwis foraging below. By the time you reach the far south, you're amongst towering moutains topped with glaciers and icy blue lakes.  Kinda like the ' States' but upside down.
Let's drive from Denmark to Spain for our holiday this year.
We've hosted lots of guests from Germany, Netherlands and Switzerland this year.  We find many of them assume that NZ is about the same size as their own country.  Surely it can't be much bigger? But it is.  Place the top end in Denmark and the bottom comfortable makes it down to the Pyrenees in Spain.  So how many days do you think you'll need to drive that AND explore all the places in between?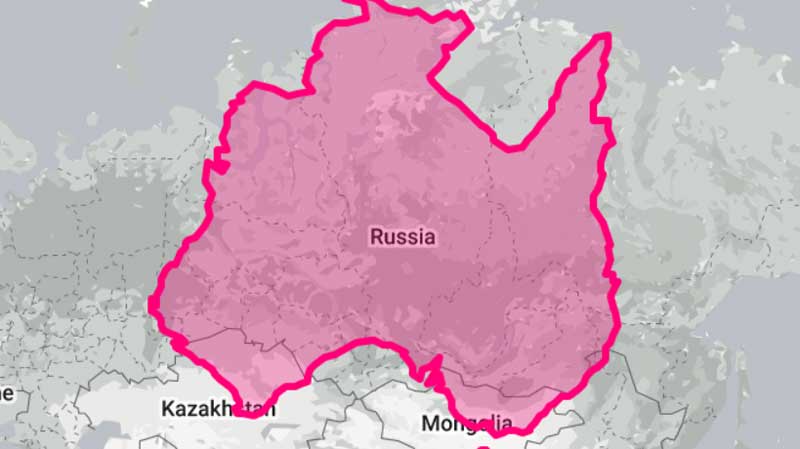 Australia swollows the Russian bear
Just for fun, let's hop over the 'ditch' (the Tasman Sea) to visit neigbouring Australia.  Most Europeans see Russia as that formidably large country overstretching Europe and Asia.   However if we slide Australia up that way, we see that it comfortably swallows the Russian bear.  Not quite so formidable (although your thoughts on Australia may be different). While we're talking of Australia, if you slide New Zealand over with Invercargill in the South Island located near Melbourne, Victoria; you'll find Cape Reinga NZ reaches to Bunderberg in central Queensland.
Our thoughts and recommendations
New Zealand's various regions all have a lot to offer, and rather cover everything in one holiday (and spending most of your time behind the wheel of a car), focus on lingering longer in regions that match your reasons for visiting New Zealand. That could be exploring it's unique Māori culture and history,  rising to the challenge of its "Great Walks", exploring unique coastal landscapes or grazing your way through our delicious food and wine.
A well know travel writer once said 'always travel as though one day you'll return' or words to that effect. Instead of hiring a car and driving the length of New Zealand, consider:
Selecting a region that interests you, explore it well and spend a minimum of three nights in any location.  This gives you time to relax and feel like a local. And you can unpack that suitcase for a few days!
New Zealand roads are rarely straight and require concentration to navigate. Make sure you book and stay at least one night on arrival to recover from jetlag, and before embarking on your adventure.
If spending a night at an Auckland airport doesn't appeal, consider booking straight through to a regional destination and picking up a car from there. Most international flights arrive early in the morning, so timing for connecting to regional flights is excellent.
New Zealand has an extensive regional airline network.  Consider flying those longer distances, and hiring cars locally on arrival. Do book cars in advance in peak season. Often your accommodation hosts can suggest reasonably priced local options.
Try keeping your next destination within 2 to 3 hour's drive.  Your accommodation's location should offer easy access to a variety of attractions within an hour or so of travel.
Don't double up. You don't need to visit all regions with similar attractions.  The Coromandel region offers beautiful coastal vistas and nature walks, but so does the Bay of Islands.  Research carefully then pick one and spend quality time there, but resist the temptation to visit both.
Planning a trip to the Bay of Islands?  Don't hesitate to contact us for suggestions and recommendations. And add your experiences with New Zealand travel in the comments below.
#NZMustdo #NewZealandTravel #NZsize #Moongatevilla
Always travel as though one day you'll return..